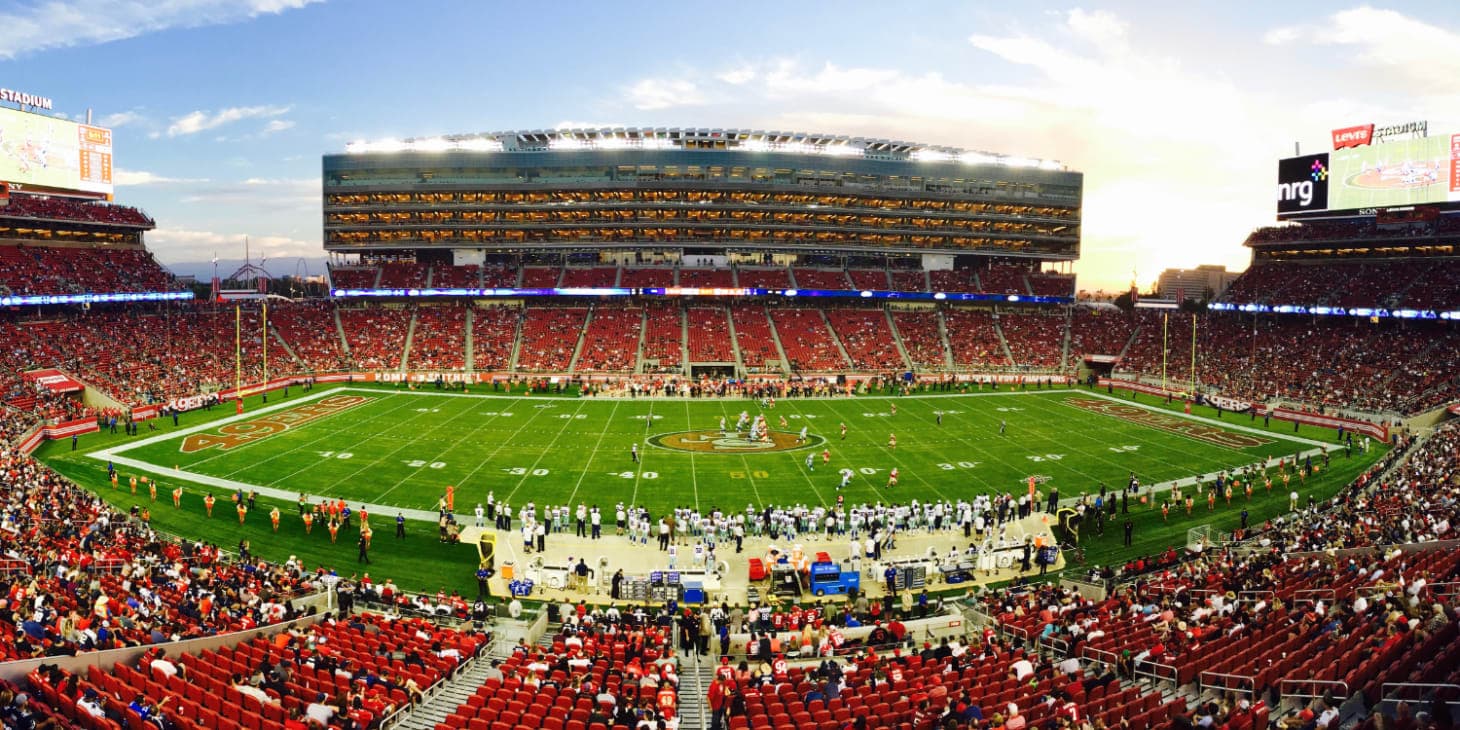 Best NFL Games This Week | Week 2
Now, wasn't that a fantastic first week? The NFL kicked off last week, and it really came back with a bang, with some nailbiting finishes and tremendous performances all around the league. With the Kansas City Chiefs suffering a huge upset at home to the Detroit Lions, the scene has been set for a whole season of unpredictability, tension, and drama.
So as we move into Week 2, fans all around the country are brimming with optimism to see if their team can be the surprise packages this season, a season which is looking more even than any other for the past few years.
With that said, we have a cracking selection of games to come this week, so let's take a look at the 3 most exciting NFL games to watch in Week 2.
---
Minnesota Vikings @ Philadelphia Eagles (Thursday Sep 14, 8:15pm ET)

Both the Minnesota Vikings and the Philadelphia Eagles had close, nervy games in Week 1, but while the Eagles clinched a 25-20 win away at a strong New England Patriots team, the Vikings were downed by a Tom Brady-less Tampa Bay Buccaneers side 20-17 on their own patch.
The Eagles are fresh off losing to Kansas in the Super Bowl last year in a spectacular game, and they have already shown against the Patriots that their grit and resilience that carried them so far last year is still there in spades.
Jalen Hurts was good but not great, only throwing for 170 yards and 1 touchdown, with the Eagles defense really carrying them to victory in the second half.
However, Minnesota went toe to toe with a fantastic Tampa Bay defense, and only lost by a field goal in the 4th quarter. Despite Kirk Cousins throwing for 344 yards and 2 touchdowns, his 1 interception cast a shadow on his performance, and in the end, the Vikings couldn't stop Bucs QB Baker Mayfield enough to get the victory.
This match should be a fascinating one, with both teams still feeling like they have something to prove. Their defenses will be strong, but the eyes of the NFL are on both teams' quarterbacks and wide receivers to see who comes out on top in Week 2.
---
Las Vegas Raiders @ Buffalo Bills (Sunday Sep 10, 1:00pm ET)

The Las Vegas Raiders were in one of the games of the week last time out, squeaking out a 17-16 win with a 4th quarter touchdown against the Denver Broncos. Wide receiver Jakobi Meyers was the star of the show, having 9 receptions for 81 yards and 2 touchdowns in a performance that made the league sit up and take notice.
In Week 2, they travel to a Buffalo Bills side that will be seething after losing to an Aaron Rodgers-less (more on that below) New York Jets side 22-16 in overtime. Josh Allen had a nightmare of a game, throwing for 3 interceptions and only 1 touchdown, a terrible start to the season for one of the game's brightest stars.
However, Allen doesn't usually have 2 bad games in a row, and it's tough to see how the Raiders defense will cope with the multiple threats the Bills have. Stefon Diggs is still one of the best wide receivers in the league, and Allen's twin talents of running and throwing will surely poke holes in their rearguard.
The question is whether Meyers and Las Vegas QB Jimmy Garoppolo will be able to respond to the Bills offense with some dazzling play of their own. Expect a shootout, as both teams try to gain superiority and press their playoff claims this season.
---
New York Jets @ Dallas Cowboys (Sunday Sep 10, 4:25pm ET)

The big (and unfortunate) news from Week 1 is that superstar New York Jets quarterback Aaron Rodgers suffered an Achilles injury early in their game against the Bills and will have to sit out the whole season. Rodger moved to New York from the Green Bay Packers this offseason after spending his whole career in Green Bay, and hopes were high that he would be the missing link for the Jets as they seek to make a deep run in the playoffs and maybe even bring New York a Super Bowl.
Alas, Rodgers will not be able to help them with that this season. But the good news is that the Jets managed to defeat the Buffalo Bills 22-16 even without him, with last year's starting quarterback Zach Wilson coming in and getting them over the line despite throwing for 1 interception. The Jets defense stunned the Bills, and they will be crucial this season if the Jets are to advance to the playoffs at all.
However, they come up against a Dallas Cowboys side that absolutely demolished the New York Giants 40-0 in Week 1. Tony Pollard was sensational for the Cowboys, running in 2 touchdowns and having an astonishing 14 carries during the game. Such a bruising performance was helped somewhat by a lazy Giants defense, but the Cowboys are still flying high after such a resounding win, and they will be favorites to down the other New York team this weekend, especially as they are at home in Dallas.
This will be more than a battle between the Jets defense and the Cowboys offense, but that is undeniably the most important factor in deciding who will win the game. If the Jets can stifle Pollard and quarterback Dak Prescott, then they will have a good chance of causing another upset. Otherwise, the Cowboys look good to continue their good form and send a real message to the big hitters in the league.
---
Author: Dan Anderson