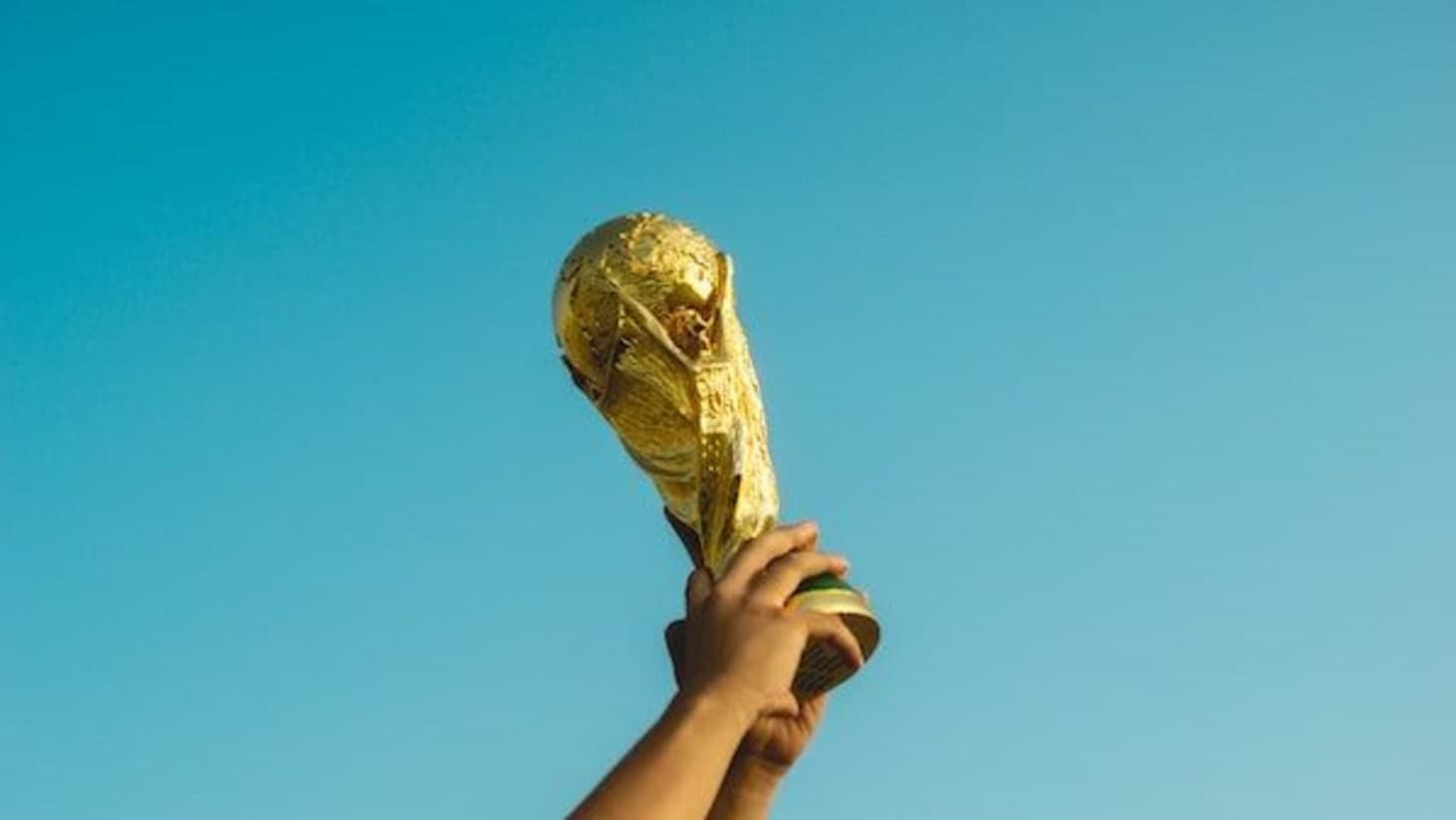 World Cup 2022 Qatar - Everything you need to know
The 2022 World Cup will start on 20 November and run until the final on 18 December. The tournament is hosted by Qatar and it is a World Cup that has been marred by scandal before it has even begun. Mostly because the country has a pretty shaky relationship with human rights. However, FIFA and many of the players have pointed out that while the World Cup is being played, the focus should be on football. We on the editorial board are split on the issue but also hope that the football party will be the same as we are used to.

In this article we will take a closer look at the 32 teams lining up, the players to watch, which teams are seen as favourites, possible goal scorers and more. We'll also take a brief look at football's biggest World Cup upsets historically, and look back at which teams are likely to make a splash in this edition. On TVSporten you'll also find a full Football World Cup schedule, now and throughout the tournament.
Which teams are favourites for the 2022 World Cup?

If you look at the betting sites' odds, most of them have Brazil as the winner of the 2022 World Cup, closely followed by the perennial favourites Argentina and France.
France perform well in World Cup contexts and are also reigning World Cup champions as they won the 2018 championship in Russia. However, judging by history, they have performed worse in the tournament after a successful one. The question is whether the exit against Switzerland in the 2020 European Championship (postponed to 2021 due to corona) already made up for that quota for the French.
Below you can read the complete list with a compilation of the betting sites' top 10 teams in the World Cup.

World Cup 2022 Schedule

Kick-off for the 2022 World Cup is at 17:00 (CET) on Sunday 20 November, with the opening match being played between hosts Qatar and Ecuador. The final matches of the group stage will be played on 2 December, after which the play-offs will begin and the battle for a place in the final will take place on Sunday 18 December at the Lusail Stadium just north of Qatar's capital Doha.
Group A
Qatar

Qatar is directly qualified to host the championship. It is also the first time they have played in a World Cup tournament. However, their status as host nation will almost certainly not be enough to get them through the group stage. But bigger scares have happened and the ball is nothing but round. The closest near-term parallel is Russia, who managed the feat in 2018, despite almost everyone predicting the opposite.
Qatar's fixture list can be found here.

Ecuador

Ecuador managed a fourth place finish in the last CONMEBOL, where they played out draws against Brazil and Argentina albeit with the advantage of their home ground which is 2850m above sea level. Away from home, however, they have had a very tough time A good team nonetheless, but the question is whether they will be able to keep up the pace with Holland and Senegal?

Ecuador's schedule can be found here.

Senegal

Senegal's greatest success in the World Cup so far was in 2002. The team reached the quarter-finals, and it was also the first time they played in a World Cup. 20 years later, they once again have a team full of talent with the title of African champions under their belt.
In the group stage, they will face hosts Qatar, Holland and Ecuador... With their biggest star Sadio Mané injured, however, it looks tough. Instead, the hope is that players like Idrissa Gueye and Edouard Mendy will lead Senegal out of the group, and hopefully beyond.Will it be enough to make it all the way to the podium? As an African team has never made it to the semi-finals, that's exactly where Senegal will be hoping to reach.
Senegal's fixture list can be found here.

Netherlands

For this World Cup, the Netherlands have changed their tactics. They have abandoned the 4-3-3 formation so obligatory in Dutch football and switched to a 5-3-2 system. They did this as recently as March this year. Has the system settled in the players? If you ask national team coach Louis Van Gaal, it has at the same time as Johan Cruyff is turning in his grave
The question is, though, whether it is not a slightly uncertain Dutch team that enters the tournament. Many experts say that the team is very susceptible to injuries. Especially on creative players like Memphis Depay and Frankie de Jong. Both of them have had muscle problems recently.
In terms of star players, Holland is, as usual, relatively stacked. As many as three players could claim to be in the spotlight, but the question is whether Virgil van Dijk might not be said to be the most pivotal. He is captain of the team and has been performing at the highest level at club level in recent years.
Otherwise, it is notable that Holland, historically best known for its strikers, is now a more defensive-minded team. It remains to be seen how far Holland can go with their new tactics.
The Netherlands' match schedule with TV times and channels can be found here.
Group B

England

England have the unenviable position of always being among the pre-match favourites for every championship. At the same time, they almost never live up to expectations. This World Cup they enter with a disappointment in their baggage. Their performance in the Nations League included two dismal losses to Hungary.
All is not grey in the English sky, however. In the 2018 World Cup, the team managed to make it to the semi-finals, and they also made it to the finals of the 2021 European Championship. Looking at the team line-up, they have, as they almost always have, a cannon team with plenty of experience and potential. Striker Harry Kane is well on his way to becoming his national team's all-time leading scorer in the international arena, while in the back line, Harry Maguire will have to get the defensive game in order. The team's other star players include Declan Rice and Raheem Sterling. One young talent to keep an extra eye on is Jude Bellingham.
England's fixture list can be found here.

Iran

Iran has a hard-working football team and was top-seeded as an Asian team. However, there is every indication that they will have to work above their abilities to progress from what some consider to be the World Cup's most difficult group after Group E.
Again, politics has infiltrated football with calls being made to exclude Iran from the World Cup due to the current political situation in the country. That will not be the case and the national team will have the opportunity to give the people something to cheer about. Extra fun is also that Swedish-born Saman Ghoddos is in the squad.
Iran's game schedule can be found here.

USA

The USA is considered by most to be the favourite to finish second behind England, but with room for error.The USA has a talented team with many exciting names, with Chelsea's Christian Pulisic and Dortmund's super-talent Giovani Reyna the brightest stars. If they can get their defence right, the USA could well be the big story of this World Cup.
The United state's schedule can be found here.

Wales

Wales are playing their first World Cup since 1958 and, led byGareth Bale, they convincingly beat Ukraine to take the final European spot to Qatar. As a national team, they may have played a number of successful games in recent years, but until now it hasn't been enough to go all the way to qualify. It's not impossible they'll make it past the group stage, but England and USA have a bit more depth in their squads.
Wales' fixture list can be found here.
Group C

Argentina

Argentina, like their closest rivals Brazil, are among the countries that are almost always favourites for the World Cup. This is also the case for the 2022 tournament.
Argentina's national team currently has a strong midfield and strong strikers in particular. Lionel Messi is, of course, the focus, a name that for years has been mentioned with obviousness as one of the best players of all time. The team has also managed the feat of being unbeaten in 36 games, just one game off the record.
The aforementioned Messi is probably playing in his last major championship, and it is not impossible that this knowledge could provide the spark for greatness. The team's only real weakness is its defence, something that can be exploited by opposing teams that play wisely.
Argentina's fixture list can be found here.

Saudi Arabia

Like Iran, Saudi Arabia has a national team with many hard-working players. And like Iran, they will have to work incredibly hard to progress.
Saudi Arabia's schedule can be found here.

Mexico

Mexico are definitely veterans in the World Cup context as they have managed to qualify for the tournament since 1994. They don't score many goals but have a rock-solid defence. A defence that will be tested thoroughly against Argentina and a certain Lewandowski.
Mexico's game schedule can be found here.

Poland

The fact that most people have Argentina as the winner of Group C shouldn't surprise anyone with a little knowledge of football. Which team finishes second and progresses is probably between Poland and Mexico. If Poland manages to advance, it would be the first time since 1986. Most hold Mexico as slightly stronger, but Poland has a versatile and experienced team.
Of course, the biggest star is Robert Lewandowski, who hasn't slowed down since his arrival at Barcelona. Having now been suspended for 3 games for the Catalans, he also has no reason to hold back on his return. Not that we ever thought he would.
Poland's fixture list can be found here.
Group D
France

France won the last World Cup in 2018, and one thing is clear - you can almost never count them out completely. The team made it through qualifying completely undefeated and they have plenty of young talent. However, it's never easy to come back to a European Championship or World Cup as champions. In that respect, the odds are simply against them. Furthermore, Paul Pogba, Ngolo Kanté and Christopher Nkunku will miss the World Cup due to injuries.
Kylian Mbappé is one of the players to keep an eye on. He helped lead the 2018 edition of the team to victory, and he has become even more toxic as a forward since then. He is undoubtedly one of the World Cup's big stars. France also won the 2020-2021 edition of the UEFA Nations League where they managed to beat Spain in the final.
France's fixture list can be found here.

Australia

"The socceroos" managed to qualify for the World Cup when they knocked out Peru on penalties. However, most believe it is unlikely that they will progress. They are undoubtedly the weakest team in their group and simply lack a fixture star to lead the team out of the group.
Australia's fixture list can be found here.

Denmark

When Sweden is absent from a World or European Championship, many Swedes traditionally cheer for Denmark instead. And since Sweden missed out on this edition of the World Cup, many will look to our red and white neighbours as the only acceptable substitute.

It's hard to predict how Denmark might fare at the 2022 World Cup. They made it to the semifinals of the 2021 European Championship. In the recent past, they've also lost twice to Croatia, while winning twice against France. Most recently by 2-0 at home in Copenhagen.

In other words, it is not at all impossible that Denmark can go far in this championship. They usually line up in an offensive 4-3-3 against weaker teams, if they face a stronger one they play a defensive emphasized 3-4-3. The star player is Christian Eriksen, that is, the Eriksen who suffered a cardiac arrest in Denmark's opening match in the last European Championship. He has come back, in a tremendous display of willpower. Perhaps his motivation can show the way forward through the tournament for the entire Danish national team?Denmark's game schedule can be found here.


Tunisia

Tunisia has quite an interesting team with young talent. Unfortunately, they have neither any particularly high-profile players nor previous World Cup experience. Everything suggests that they will be eliminated in the group stage. If there is any hope, it lies mainly with striker Wahbi Khazri who managed to score 10 goals in 30 games last season in Ligue 1.
Tunisia's fixture list can be found here.
Group E
Spain

The Spanish national team is one of those teams whose World Cup history is not very impressive but is considered a top team nonetheless. However, they won the whole thing after beating Holland in the 2010 final. But Spain is not the same team it was between 2008-2012. That national team was one of the best football teams of all time, in all categories. That said, Spain is still one of the best national teams in the world, albeit with a very young squad.

They have a number of young Barcelona talents in Torres, Gav and Pedri. The latter made a very strong European Championship in 2020. It's also worth keeping an eye on left-back Jordi Alba, who many consider to be one of the best in his position right now.
Spain's fixture list can be found here.

Costa Rica

Costa Rica was the last team to qualify for the World Cup. They will probably have a tough time against all their group opponents. On top of that, their biggest player, goalkeeper Keylor Navas, has played exactly 0 minutes for his PSG this season.
However, it should be noted that Costa Rica pulled off one of the biggest upsets in World Cup history when they beat Italy and Uruguay in the group in 2014 and tied England. They went on to reach the quarter-finals against Holland where it took a penalty shootout to eliminate Costa Rica from the World Cup. Can they repeat the feat in Qatar? Highly doubtful.
Costa Rica's fixture list can be found here.

Germany

In Germany's second match of the 2022 World Cup, they will face Spain. It's undoubtedly a match the German players will go into with a bit stronger emotions than usual. The last time the two teams met was in November 2020 in the Nations League. The bottom fell out of the German team completely as the Spaniards managed to win the match 6-0. It was the biggest loss for the German national football team since 1931. Time for revenge?

Now, Germany is hardly a country without success in international football, even if they have been a little uneven in recent years. They last won the World Cup in 2014, beating Argentina in the final. In the 2018 World Cup, they didn't get past the group stage. They come to this World Cup with a team that on paper is hardly lacking in talent. Among the players to watch are Serge Gnabry, Kai Havertz and playmaker Joshua Kimmich. Some are also speculating that the tournament could be young Jamal Musiala's breakthrough.
Germany's fixture list can be found here.

Japan

Japan comes to the World Cup under the leadership of veteran Takumi Minamino. It's definitely a promising team, and no one thinks it's impossible that they can make a splash. That said, they will have a tough time against Spain and Germany. An unfortunate draw for a national team that always wants to play a nice form of football along the ground. However, we probably won't see it in more than three games this World Cup.Japan's fixture list can be found here.
Group F

Belgium

Belgium have not quite lived up to expectations in recent years. On paper, they have been able to field a really good team, but it hasn't quite been enough. In the 2020 European Championships, they made it to the quarterfinals, and in the 2018 World Cup, they managed to go all the way to the semifinals. Whatever the outcome, they are clear favourites to win Group F. This is also the last chance to win the World Cup for what many believe is Belgium's "golden generation".
Belgium's fixture list can be found here.

Canada

Canada is taking part in its first World Cup tournament in 36 years. The question is, will the lack of tournament experience on this scale be the deciding factor? They impressed in qualifying and have their best squad... ever? Big man Alphonso Davies and two-footed striker Cyle Larin are worth keeping an extra eye on.
Canada's fixture list can be found here.

Morocco

A talented team with many skilled players, not least Hakim Ziyech and Ashraf Hakimi. In recent years, Morocco has emerged as one of the best African teams. However, Group F will offer difficult opposition.Morocco's fixture list can be found here.

Croatia

Croatia is another team that could go really far, or be eliminated already in the group stage. In the last World Cup, they took the silver medal. It didn't go as well in the last European Championship. Big star Luka Modric might be able to provide that extra spark of motivation needed to go all the way. Most likely, this will also be his last World Cup tournament.
Croatia's game schedule can be found here.
Group G
Brazil

Brazil is always considered one of the favourites for major championships, including the 2022 FIFA World Cup. The team comes to this championship with a strong squad. Many see Alisson Becker as one of the best goalkeepers in the world, and the attacking positions are no disgrace either. PSG's Neymar and Real Madrid's Rodrygo and Vinícius Júnior are something every defense dreams nightmares about.

Historically, Brazil is the country that has won the most World Cup titles ever. The most conspicuous shock to befall them in football terms was their total collapse against Germany in the semi-finals of the 2014 championship. A match Brazil lost 7-1. Since then, things have started to go well again and they completed a more than successful qualifying campaign, winning the CONMEBOL Libertadores.They are undoubted favourites in their group with the closest to threatening them likely being Serbia and Switzerland.
Brazil's fixture list can be found here.


Switzerland

Switzerland could well surprise. They went undefeated through qualifying, which included a win against Italy. They also only let in two goals. With stars like Manuel Akanji, Granit Xhaka and Breel Embolo, they have every reason to be hopeful. Worth pointing out is that they last knocked out the newly crowned world champions France in the European Championship.
Switzerland's fixture list can be found here.

Serbia

Switzerland's closest competitor for second place is Serbia. Not least, they managed to beat Portugal during the qualifying round. They have a good attacking game in particular, but leave a lot to be desired compared to previous years' editions in terms of their squad.Sergej Milinković-Savić, Dusan Tadic and Aleksandar Mitrovic are worth keeping an extra eye on, though.
Serbia's game schedule can be found here.

Cameroon

Cameroon would have a much better chance if they had been in a different group. As it stands, they will find it very difficult. The hope lies with Andre-Frank Zambo Anguissa and Eric Maxim Choupo-Moting who are both in very good form for Napoli and Bayern Munich respectively.
Cameroon's fixture list can be found here.
Group H
Portugal

Portugal had a much tougher qualification than expected. Had they been drawn in any other World Cup group, it would have been considered a lock for a place in the Round of 16. . As it turned out, they've got a tough group but will almost certainly make it through the group stage. Albeit with no guarantees.
They have an experienced team, of course. Not least, they have a Cristiano Ronaldo who continues to make headlines at the age of 37. This time for the wrong reasons but should not be discounted as one of the world's most dangerous strikers. Despite his being or not being at Manchester United, he has always been at ease with his national team and has never been in better company than he is at the moment. He also probably won't mind lifting the World Cup trophy in what will probably be his last appearance at the World Cup.
Portugal's fixture list can be found here.

Ghana

Ghana showed promising trends during the qualifying campaign. They lack well-known players, but they work hard and definitely have the ability to offer tough opposition when it counts. For us Swedes, Hammarby and Djurgården's old defenders Joseph Aidoo and Daniel Amartey are of particular interest. If they can stop Ronaldo, all Swedes should feel some sort of pride.
Ghana's fixture list can be found here.

Uruguay

Uruguay had to exit the last World Cup tournament after being knocked out in the round of 16 by France. They come to this tournament with a relatively old team. Luis Suárez and Edinson Cavani are still in the top flight. On the bench, for the first time in 16 years, we will see a coach other than the ever-young Óscar Tabárez. Can his successor Diego Alonso bring the trophy back to Uruguay after a wait of almost 100 years?
Uruguay's fixture list can be found here.

South Korea

South Korea have surprised before. Not least in the last World Cup, where they knocked out reigning champions Germany in the group stage. Can South Korea make a splash in this World Cup? If so, Tottenham's Heung-min Son will be carrying the load. As we all know, he is no stranger to performing under pressure as he narrowly avoided military service by leading the national team to a gold medal in the 2018 Asian Championships.South Korea's fixture list can be found here.
Former winners of the World Cup

Which team will be added to this list of winning teams on 18 December 2022? Of course, it is particularly noteworthy during this World Cup that the multiple champions Italy failed to qualify. They were knocked out by Macedonia.
1930 - Uruguay
1934 - Italy
1938 - Italy
1950 - Uruguay
1954 - West Germany
1958 - Brazil
1962 - Brazil
1966 - England
1970 - Brazil
1974 - West Germany
1978 - Argentina
1982 - Italy
1986 - Argentina
1990 - West Germany
1994 - Brazil
1998 - France
2002 - Brazil
2006 - Italy
2010 - Spain
2014 - Germany
2018 - France
2022 - ?

World Cup top goal scorers

Among the World Cup's top goal scorers you will find a long list of legends.
2018 - Harry Kane (England), 7 goals
2014 - James Rodriguez (Columbia), 6 goals
2010 - Thomas Müller (Germany), 5 goals
2006 - Miroslav Klose (Germany), 5 goals
2002 - Ronaldo (Brazil), 8 goals
1998 - Davor Suker (Croatia), 6 goals
1994 - Oleg Salenko & Hristo Stoitchkov (Russia/Bulgaria), 6 goals
1990 - Salvatore Schillaci (Italy), 6 goals
1986 - Gary Lineker (England), 6 goals
1982 - Paolo Rossi (Italy), 6 goals
1978 - Mario Kempes (Argentina), 6 goals
1974 - Grzegorz Lato (Poland), 7 goals
1970 - Gerd Müller (West Germany), 10 goals
1966 - Eusebio (Portugal), 9 goals
1962 - Florian Albert (Hungary), Valentin Ivanov (Soviet Union), Garrincha (Brazil), Vava (Brazil), Drazan Jerkovic (Yugoslavia), Leonel Sanchez (Chile), 4 goals
1958 - Just Fontaine (France), 13 goals
1954 - Sandor Kocsis (Hungary), 11 goals
1950 - Ademir (Brazil), 8 goals
1938 - Leonidas (Brazil), 7 goals
1934 - Oldrich Nejedly (Czech Republic), 5 goals
1930 - Guillermo Stabile (Argentina), 8 goals

So who will be the 2022 World Cup top scorer? Negotiation speculation revolves around a few different names. For example, Messi, who is probably making his last major championship. Or Cristiano Ronaldo. Kylian Mbappé is also in the previews, as is last year's biggest goal scorer Harry Kane.
Biggest World Cup upsets of all time

The history of football's greatest World Cup upsets contains many names. Let's take a few examples before we look at the teams that are supposed to have a chance to shine this year.

East Germany went further than anyone expected in the 1974 World Cup, not least by beating their neighbour to the west, West Germany. They progressed to the second round of the group stage, but the opposition there was too tough. They were knocked out by Argentina and Brazil, among others.

When it comes to teams that have surprised in the World Cup context, Senegal's performance in the 2002 World Cup cannot be ignored. It was the country's first appearance at a World Cup. Most teams that manage the same feat are usually happy just to be taking part. However, Senegal managed to go all the way to the quarter-finals where they lost to Turkey.

Costa Rica, like Senegal, had never played in the World Cup when they played in the 1990 tournament. It was considered an even bigger upset that they managed to beat Scotland and Sweden, among others. However, that feat doesn't even compare to 2014 when they made it all the way to the quarterfinals.

Who will be football's biggest 2022 World Cup upsets?

The teams that are not considered clear favourites, but are still being talked about as potential surprises are Denmark and Senegal. The Danish national team seems to be sitting on tremendous will and motivation, while also giving some decent messages of strength recently. Not least by beating France twice, both home and away. Senegal, on the other hand, has a very talented team full of big-name players that many still underestimate. With Sadio Mané injured, however, there is room for other teams to stand out. Here at the editorial office, we see the USA and Canada as potential showstoppers.